ENO Slap Strap Guide
How ENO's SlapStraps work and how they rate
The Slap Strap (strictly speaking it's one word - 'SlapStrap') by Eagles Nest Outfitters is a simple and tree-friendly hammock strap, designed to let you hang your portable suspended bed between two trees, poles or rocks quickly and easily.
SlapStraps work with not only ENO hammocks but any models that feature a climbing style metal 'carabiner' or an equivalent connector.
The idea is a simple but highly effective one: the SlapStrap 'suspension system' sits between a hammock's metal carabiner (which clips into the end of a Slap Strap) and the trunk of your chosen tree or other object.
The Product
Versions:
Eagles Nest SlapStraps are available in two versions: SlapStraps and SlapStraps Pro. The Pro version adds an extra 2 feet (60cm) of length over the original, which makes these straps better for strapping around large trees and posts, or for areas where trees or similar may be positioned a further distance apart.
Both SlapStrap versions support a per-pair hammock weight of up to 400lb/181kg and Slap Straps also come with their own storage bag, available in various colors.
Material:
SlapStraps are made from one-inch soft UV-treated nylon webbing and due to this material and their width (i.e. wider than normal camping types of rope), they do not damage the tree's bark.
Compatibility:
SlapStraps are compatible with ENO's SingleNest, DoubleNest, ProNest and new DoubleNest Deluxe hammocks (see here), in addition to many other hammocks depending simply on their connectors (see above).
Size:
Standard - 7'6" (229cm) x 1" (2.5cm), Pro - 9'6" (290cm) x .75" (1.9cm)
Weight:
12oz/340g (Standard, per pair), 12oz/227g (Pro)
Price:
Expect to pay roughly $20 (standard) or $25 (Pro) per pair.
Where to buy them: find ENO's SlapStraps on Amazon here
Using SlapStraps
The process of using ENO SlapStraps is very simple: just wrap a SlapStrap around the tree or pole in question, then pass one end of the Slap Strap back through the loop positioned right at the other end, then pull tight.
Your hammock's carabiner or connector then clips into one of the SlapStrap's additional pre-stitched loops, depending on the tightness required to hang your hammock.
Note: if using ENO's Guardian Bug Net with your hammock, the process is a little more complex: First, you tie the bug net's cord between the trees, then connect the net's clips to this cord. Then you connect your hammock to one SlapStrap and feed the entire hammock through the bug net's open ends before connecting the opposite end. This way your bed remains completely inside your 'bug-free tent'.
Where Can You Attach Them?
No trees where you are heading? Get creative. What about tying straps around rocks, car roof racks, telegraph poles, signs etc.?
Issues To Note: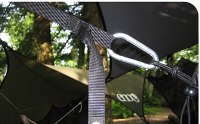 Most user reviews of Slap Straps are very positive. However we recommend you read these two points before buying:
- Due to their nylon, SlapStraps do stretch a little. This is not a huge problem, but something to be aware of before you hang your bed. Simply tie it up higher above the ground than maybe you might think - i.e. chest or even neck height.
- Hardcore outdoor types might not like being restricted by a Slap Strap's pre-determined fix points. (One camping addict on WhiteBlaze.net for example says, "In the real world those points are never going to be exactly where you want them"). For most buyers however these pre-set options seem to work fine.