Clark Jungle Hammock Guide
Hardcore camping hammocks direct from Salt Lake City
Based in Salt Lake City and recommended by both the U.S. Rescue and Special Operations Group and Survival magazine, Clark Jungle Hammock produces lightweight, super-strong professional outdoor hammocks for serious outdoor customers.
Available since 1997, the company's camping hammocks are sold directly from the factory so that Clark can update its products immediately should its customers make any valuable suggestions or requests.
A Clark jungle hammock is not cheap, but as their users will tell you (and plenty talk about them online), these suspended beds are built to last and should ensure you a good night's sleep in pretty much any outdoor situation you can think of.
Key Features
No-tip design
Clark jungle hammocks are designed not to tip at any time for any reason. And they don't: we couldn't find one customer online report that mentioned a tipping incident.
Bug-free
Unlike say a less-expensive ENO hammock, for which the bug net is bought separately, each Clark hammock includes full zippered 'no-see-um' mosquito netting as standard, which can be unzipped on one or both sides as you like. The hammock bed itself is also manufactured from mosquito-proof fabric.
Tip
Setting up a Clark jungle hammock takes roughly the same time as erecting a freestanding tent.
Layered approach
A Clark hammock is a product of layers. Many layers. On the very outside is the rain fly, then the mosquito netting, which can be folded away at one end of your bed during the daytime. Beneath is the breathable bed itself and underneath that, attached to the base, are up to six gear pockets for holding your boots, clothes, supplies and other gear. These pockets sit under your body and help insulate you when the temperature drops.
Super strong
A Clark hammock is seriously durable. It is made from four types of thin nylon fabric. The main body fabric, which the ropes attach to, is the strongest - a heavy-duty nylon weave with water-repellent coating. The inner liner is breathable rip-stop nylon (again water-repellent).
The rain fly, water-proof of course is 1.9oz ripstop nylon, while the bug mesh layer is slightly stretchier nylon, because this has to stretch around everything. The hammock's ropes meanwhile are made from polypropylene, which is the lightest rope for its strength in the world. It is also wick-proof, meaning it will not absorb moisture and pull this down towards your hammock bed.
Quick set-up
Once you've set-up your hammock a few times, you should be able to run this process in just a few minutes. To some degree this depends on which model you choose however; models like the NX-250 use fiberglass poles for rain fly, which means a slightly quicker set-up than with the North American model's wires.
Below is YouTube's best current Clark set-up video to show you how (part 2 is here):
Brief Reviews of Clark Hammocks
Not sure which Clark jungle hammock you should opt for? Check out this considered advice before you make your choice.
North American
This versatile single-user bed weighs just 2lbs 15oz (1.33kg) and is a four-season (year-long) model, meaning it will keep you dry, protected and comfortable whatever the weather.
The North American supports up to 300lbs (137kg) and comes with two standard features: a WeatherShield that turns this hammock into a fully enclosed hanging tent, and Clark's insulating under-bed pocket system (both described above). These features will help keep you warm and cosy when the weather turns nasty.
In addition to the insulating pockets underneath (for storing your gear), two more pockets are located inside the hammock for your valuables, torch and so on. The North American's optional extras include a larger version rain fly and a camouflage finish (available with all Clark's beds) for that Army-style junglist look.
Customer feedback:
Users of the North American like its well thought-out design ("like a cross between an A-frame tent and a hammock but without poles"). They also report it is rugged ("bomb-proof"), completely water-proof (and quick drying), and overall definitely worth its price.
Suitable for:
A little lighter than the NX-150 and NX-250 thanks to its wires (rather than poles), the single-user Clark North American is a good choice for campers who sleep outdoors the whole year round.
Expect to pay: US $339.
Vertex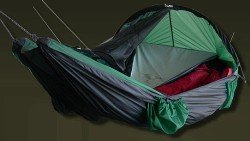 The Vertex is Clark's super-lightweight two-person camping hammock. Unlike its competitors, it actually features two independent hammock beds, with four storage pockets between, plus a large compartment for storing your backpacks and other stuff.
Along with the Vertex main section you get the special Vertex Rain Fly, which can even be packed separately from the hammock so you can share the trekking load. Optional add-ons include the Clark WeatherShield, to enclose this large hammock like a tent, and a camouflage fabric finish.
Note - unlike the single-person North American model above, the Vertex is a three-season bed, so it is perfect for everything except camping in the winter snow at sub-zero temperatures.
As with other models, each individual Vertex bed is designed to support up to 300lbs (136kg). The center storage section meanwhile can handle 200lbs (91kg). The total weight of this kit, not including its optional extras, is only 4lbs 14oz (2.21kg).
Customer feedback:
Owners of this double hammock just love how huge it is ("if a lot of room is what your looking for then this jewel has it", says one). They also claim its separate bed approach is great for comfort, with one reviewer claiming he never even felt their partner move during the night.
Suitable for:
Good for outdoor-loving couples and friends who want to sleep out in all but the coldest winter weather.
Expect to pay: US $539
NX-150 / NX-250
If you will be sleeping alone and want the most room possible, or the greatest weight support possible, either the Clark NX-150 or the NX-250 is the bed for you.
These two beds are effectively larger versions of the North American (above) and the most spacious beds Clark produces, making them perfect for the slightly larger, heavier outdoorsman, or just someone who usually feels over-confined in a 'normal' hammock.
In line with these larger sizes, the rain fly supplied has also been widened. This is also separately hung, unlike most Clark models, however flexible fiberglass poles are included to help speed the set-up process (these mean you don't need any additional ropes after the main hammock is hung).
The difference between the NX-150 and the NX-250? The first is based on the standard sized North American model, while the NX-250 is based on the larger NX-200 model, which is a whole foot longer and 3 inches wider than Clark's standard-sized hammocks.
If you measure up to 6' 2" (188cm) tall and weigh up to 250lbs (113kg), the NX-150 should fit. But if you are larger or just really want that space, go for the NX-250. Available with a camouflage finished, the NX-150 and NX-250 weigh 3lbs 4oz (1.47kg) and 3lbs 10oz (1.64kg) respectively.
Customer feedback:
Online reviewers love the comfort and durability of these models. Like all Clark owners, they also rave about their flexibility. One typical comment reads, "You can have it as open or as closed as you want. In fact, you can even remove the entire fly, weather shield and mesh for a 100% 'open top' experience in the summer if you want".
Suitable for:
These 4-season beds are quick and easy to set-up thanks to their fiberglass poles (compared to the North American's slightly more time-consuming wired approach), making them great for fuss-free buyers who camp out all year round.
Expect to pay: US $389 (NX-150), $429 (NX-250)
Tropical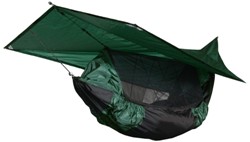 This hammock is designed specifically for warm and humid tropical conditions, not for cold weather camping.
What makes this product a good buy for jungly locations? Its head-end is netted for improved air circulation, plus you get a nylon hood that raises over the head of the hammock to help you stay comfortably dry and bug-free.
Of course the fabric of the bed itself - like all Clark models - is also 100% mosquito-proof, and also on the bug front, this bed's four storage pockets feature special flaps for preventing poisonous spiders and other creepy crawlies from getting inside.
With this hammock Clark's WeatherShield is available as an option only, enclosing the entire hammock, tent-style, for better privacy and even more protection from moisture and/or cold. Meanwhile the Tropical's rain fly is Clark's 'most protective' model and should keep you completely dry at all times, no matter how serious the downpour!
The standard Tropical kit weighs 2lbs 8.5oz (1.15kg) and supports a recommended load of 300lbs (137kg)
Customer feedback:
The customer reviews our research found online suggest that hammock is simply the best product around for wet and/or humid environments.
Suitable for:
Single users who plan to camp in temperatures above 50F (10C), particularly in wet and/or humid climates.
Expect to pay: US $299
Ultralight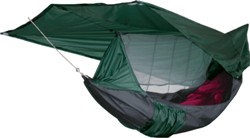 Is your main concern buying a hammock that won't slow you down? Then the Clark UltraLight is the model for you.
This feather light 2lbs 6oz (1kg) single hammock is fully netted, with two gear pockets underneath and a removable rain fly. You can also folds the netting into the foot of the hammock to gaze up at the stars.
The Ultralight is designed for warm weather locations rather than deep winter. It is also one of the company's lowest cost beds.
Tip
Although not required to hang a Clark, the company offers more tree-friendly tree straps for just $12 per pair.
Customer feedback:
Users of this model love its weight (or lack of), its durability ("built for the long haul") and its sleeping comfort. They also report the side entry approach (unlike a bottom-entry Hennessy) makes it great for sitting around camp, plus users of other camping hammocks are often surprised about the huge amount of headroom on offer.
Suitable for:
This 2-season hammock is perfect for weight-obsessed campers who will be camping out in warmer climes.
Expect to pay: US $239
Essential Accessory
Z-Liner System
Clark's Z-Liner system is designed to help ensure you stay warm in your bed when the temperature drops below zero (32F/0C), which even with a sleeping bag is often a challenge with cold winter air breezing around your body.
The Z-Liner can be used with any of Clark's 4-season hammocks and is available in two sizes: the smaller 100 size model works with Clark's North American and NX-150 hammocks, while the 200 is for the company's NX-250 and older NX-200 models.
According to Clark itself, this system should allow you "to comfortably sleep at least 20F (9C) lower than you otherwise could", right down to single-digit Fahrenheit temperatures.
Made from so-called Climashield HL insulation, this system comprises 6 insulating pads. These fit directly into the hammock's insulating pockets, under the bed itself, providing better insulation for your torso, head and thighs (it's usually your back that feels the cold the most when using a hammock, and additional new insulation for your feet and lower legs.
In true clever Clark style, the Z-Liner comes with a stuff sack large enough to hold your hammock with the Z-Liner already installed inside. The result? Less messing around in the freezing cold when you reach your destination. (A smaller Z-Liner stuff sack is also available for carrying separately.)
Expect to pay: US $169 (100 size), $189 (200).
Related Pages
Customer Feedback On Clark hammocks
Find out what existing Clark campers have to say about their beds.
An Interview With Clark Jungle Hammocks' Founder
We chat to Gary Clark about how he got started, tree protection, competitor Hennessy and more.
Hennessy Hammock
Arguably Clark's closest camping hammock competitor. Some users prefer one, some the other. Worth taking a look.