Tree Hugger Hammocks Guide
Helpful buying advice and portable product tips
Described by their makers as "The most comfortable, lightweight, backpacking hammocks on the planet", Tree Hugger hammocks are breathable, lightweight products.
Tree Hugger hammocks are designed to suit buyers who need a light, thin and packable hammock that they can sling up at whim - between trees, rocks, off the back of an RV, or wherever fits.
The company currently offers just two hammock models (below) - one for single swingers and a larger double hammock. Both are available in one of six attractive two-tone color combinations.
What sets the Tree Hugger company apart from close competitors (such as Eagles Nest Outfitters) is its dedication to all things environmental. Its ethos is all about having minimal impact on the environment (thus the popularity of its tree straps, which users of other hammock brands often buy), and doing community work.
Note: Tree Hugger beds are flexible and adaptable portable hammocks. However they do not come with the kind of accessories and insulation systems that hardcore campers require when sleeping outdoors throughout the year (such as those offered by Clark and Hennessy).
It's best to therefore consider Tree Huggers more suitable more for activites like dayhikes, a day at the beach, garden lazing and RV extras.
Key Features
Each TreeHugger hammock offers the same user-friendly features. Learn more about them below:
Breathable and durable
Tree Hugger hammocks are made from nylon microfiber, a breathable and mildew/mold-proof fabric. The firm has treated this material to be UV- resistant, while also using color-fast dies to color it. This means a Tree Hugger's colors should fade little through exposure to the sun. You can even machine wash them!
Tip
Remember that Tree Hugger beds do not include tree slaps as standard.
Easy set-up
TreeHugger hammocks are truly simple to set-up, in part because they don't even use ropes/lines; instead the end of each hammock features a sewn-in carabiner holder.
Just wrap one tree strap (sold separately) around a tree, thread through its end loop and pull ut tight. Then clip your hammock's end carabiner to one of the loops sewn into the strap (these clipping loops 4 inches apart so you have plenty of choice). Repeat with your second tree strap to create a bed between trees!
This quick TreeHugger-produced video demonstrates the process:
Modular approach
Unlike full camping systems, when you buy a Tree Hugger you get just the bed itself, two carabiners and an attached stuff sack. Extra accessories such as rain tarp (covers) and tree straps, are sold separately. This is useful because if you already own such components (or don't want them), it means you aren't paying money for kit you don't need.
Eco-friendly
It's not really a feature as such, but eco buyers should like that a proportion of Tree Hugger's profits are donated to environmental organizations and its products are strictly only made by companies with what it calls "reputable" human rights practices.
Brief Reviews of Tree Hugger Hammocks
Tree Hugger's range is as minimal as it gets; just choose between a single or double hammock, then add any accessories you require.
Single Hammock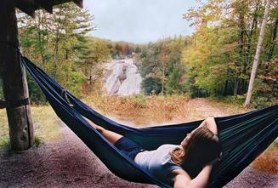 The company's single hammock is self-explanatory - it is a portable hammock designed for one person to snooze in.
This person can weigh up to 400 pounds (180kg), with the bed itself measuring 4'8" (142cm) wide by 10' (305cm) long. Like the double model (below), this hammock is supplied with two US-made aluminium alloy carabiners (palm-sized metal connecting loops with sprung gates) and an attached stuff sack (in which to store your torch, book etc. when the hammock is hung).
This model weighs just 15 ounces (425g) and includes a standard one-year warranty.
Suitable for:
Individuals looking to relax comfortably during the daytime.
Expect to pay: US $48.50
Double Hammock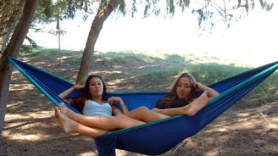 The company's double bed is the same length as its single hammock (10' or 305cm) but significantly wider, measuring 6'8" (203cm) from side to side. It can hold the same weight of 400 pounds (180kg), so if you and your snoozing partner are a little heavy you should think carefully before buying this model.
Like the single hammock above, the double Tree Hugger includes two carabiners and an attached stuff sack. It is backed by a one-year warranty and all-in weighs 19oz (538g). Accessories such as tree straps and rain flys are sold separately (see below).
Suitable for:
Couples looking to relax together during the day (in the yard, at the beach, outdoors etc.), or individual snoozers with broad shoulders who want more room.
Expect to pay: US $58.50
Key Accessories
These Tree Hugger bits and pieces are sold separately to the hammock beds. Unless you have tree straps from a previous hammock system you will need these at least.
TreeHugger Hammock Straps

TreeHugger Straps are the components that actually help you hang your bed from trees, rocks, poles or other sturdy nearby objects.
Made from strong 1-inch-wide webbing with a UV coating, these are designed to be wrapped around trees or other objects 10 - 20 feet (3-6m) apart. These 100% tree-friendly straps measure 7' 8" (233cm) long and can support up to 400 pounds or 180kg.
Expect to pay: US $17.50
Where to buy it: find TreeHugger straps on Amazon here
Tree Hugger Rain Fly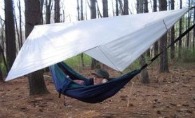 If you want to be protected from the rain when chilling in your rocking bed (after all, who can predict the weather?), a rain fly is what you need.
Weighing just 14oz (400g), this is the company's own model. It is made from durable waterproof rip-stop nylon and includes its own stuff sack for easy carrying.
This Tree Hugger movie shows how you hang it up:
Expect to pay: US $68.50
Treehugger Carabiners
Should you lose the carabiners supplied with your Tree Hugger bed, these are available to buy separately. Note: these carabiners are not designed for climbing use, so don't risk it.
Expect to pay: US $3.50
Related Pages
www.treehuggerhammocks.com - Official Tree Hugger Site