Kelsyus Portable Hammock Guide
Is a Kelsyus worthy of your cash? Find out here
The Kelsyus portable hammock is an all-in-one 'hammock with stand' set that its creators have designed primarily for use at the beach, by the pool and on camping trips (as an occasional leisure hammock, not necessarily your main sleeping bed).
Packable in their own shoulder bags, which are supplied as standard, Kelsyus hammocks offer hands-free portability and do not require any tools to set-up or take down.
The installation process is simple: you stretch out a Kelsyus hammock's sprung metal frame, click this into shape, and then clip each end of the hammock bed to the frame (see video below).
Produced in Virginia Beach, USA, the company's hammocks include its most well-known model, named the 'Kelsyus Portable Hammock', more breathable mesh versions, a larger double hammock for slumbering with a friend or family member, and even a water hammock.
But are Kelysus portable hammocks sturdy and long-lasting? Do customers rave about their build quality? Check the guide below to learn more.
Key Features
Each Kelsyus portable hammock utilizes a largely similar design methodology (except the inflatable water model) and so offers roughly the same features and benefits. These include:
Simple set-up
Kelsyus' freestanding hammock frames have a quite ingenious design in terms of their set up and disassembly. You just open up the frame, spread it, lock the brackets at each end, then connect the main bed section, all of which takes just 2 minutes (see video futher down page).
Packable
Each Kelsyus product comes with its own special carry bag, into which the frame and bed fit easily when not in use.
Flexibility
While Kelsyus hammocks are too heavy for truly 'portable' use (e.g. hiking or camping), they are very useable and still relatively portable products (i.e. you can easily carry a Kelsyus from your car to the beach).
Because you don't need trees to hang them from, as with traditional hammocks, Kelsyus models are good for a massive range of events and locations: at the beach, picnics, the backyard, all day races, tournaments, festivals, by the pool, even inside the house!
Brief Reviews of Kelsyus Hammocks
Not sure which Kelsyus portable hammock is right for you? Check out the product reviews below to better understand their features, differences, and what users say about each.
Kelsyus Portable Hammock
Billed largely by its makers as a portable beach hammock, this key Kelysus model is the company's lightest folding hammock, weighing just 25lbs (11kg).
Its stand is made from steel, with nylon webbing stabilizer straps to connect the PVC-backed canvas bed material, which Kelysus claims can support up to 250 pounds (113kg). In terms of the space you will need for this bed, it measures 34 x 100.3 x 27 inches (86 x 254 x 68 cm) when set-up.
This short video shows how a Kelysus hammock is assembled/disassembled:
Customer feedback:
This hammock's online user reviews are, in general, very positive (the average score on Amazon at the time of writing is 4 out of 5). Owners say it is lightweight, portable, comfortable, and easy to set-up.
Tip
Watch your fingers when closing a Kelsyus hammock's frame!
However, it is worth mentioning that several customers who weigh
over
180lbs (82kg) report that their butts hit or drag on the ground when laying in this product. This is due to the bed's material stretching. Others even say they feel uncomfortable because they can feel the actual poles.
Suitable for:
Anyone weighing under 180lbs/82kg who wants a relatively portable hammock for taking to the beach, pool, on vacation, ball games etc.
Expect to pay: US $100-110.
Where to buy it: find the Kelsyus portable hammock here
Kelsyus Portable Hammock XL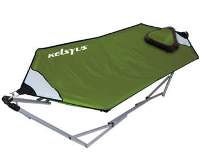 This model is effectively the normal Kelsyus Portable Hammock above, only larger in size and with additional accessories supplied.
The frame of this XL is 15% bigger than the regular product, with Kelsyus claiming therefore the same canvas and steel frame construction can, with these dimensions, support a single adult who weighs up to 300 pounds (136kg) - compared to the regular model's 180lbs (82kg).
The usual compact carry bag with shoulder straps is provided, but with this hammock you also receive these extras:
Inflatable pillow for greater comfort
Built-in cup holder
Built-in magazine holder
Due to its greater size, this hammock weighs more than its regular sized cousin: 33.6 pounds (15kg) rather than 25lb/11kg.
Customer feedback:
User comments about this XL model are notably less positive than for Kelsyus's smaller portable hammock. While many customers say the XL is comfortable, rave about the company's customer support and like its sewn-in instructions, many others cite durability and weight issues. These include:
Strength: several reviewers say their hammock broke only the second or third time it was used due to the supporting bars snapping.
Support: other buyers, particularly those who weigh close to this hammock's allotted 300lb maximum, say the steel bars of the frame bent so much that they themselves were pretty much laid on the ground or the material stretched, with the same effect.
Expect to pay: US $110-120
Where to buy it: find the Kelsyus XL hammock here
Kelsyus Portable Mesh Hammock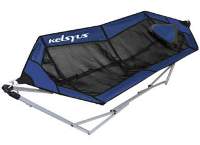 This mesh model is almost identical in design to the first regular-weight portable hammock above, only the usual bed material is made from a more breathable mesh and there is an extra accessory thrown in.
Like its non-mesh version, this bed weighs around 25lbs (11kg) and is designed to hold one adult weighing up to 250 pounds (113kg). Its mesh keeps any breeze flowing nicely around you, keeping you cooler on those warmer lazy days, plus here Kelsyus also includes the same inflatable pillow you get with the XL model.
Customer feedback:
While users like the easy set-up and design theory of this hammock, as with the original Kelsyus Portable above, the majority of the user reviews online at present are negative. That is because of problems that many experienced with the mesh material tearing at the ends.
However the manufacturer now reports to have addressed these issues and strengthened the material's seams. (To be sure, check out the latest customer comments about this hammock here on Amazon.)
Expect to pay: US $90-130
Where to buy it: find the Kelsyus Mesh here
Kelsyus Hammock Recliner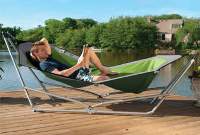 This model is advertised by Kelsyus as its most comfortable model. It features a rather unique three-position design, with which you can choose to sit up, sit sideways (for a little swing) or lay back and relax traditional hammock-style.
The idea is that this positional flexibility makes the bed easier to get in and out of than its competitors. (It also means you can enjoy relaxing on it with your feet lower than your head, as opposed to the 'feet up' position that can put make some older users' feet go to sleep!)
The Recliner is supplied with an inflatable pillow, storage pocket and carry bag. It is designed to support the same weight as the company's other regular-size hammocks: namely 250lbs or 113kg. However the weight of this product itself is greater than other Kelsyus beds; it weighs in at a more hefty 42.7lbs (19.4kg). So while it is portable in the 'pack it in the car trunk' sense, it is probably too weighty to take hiking.
Customer feedback:
This product is newer than those above, so it is difficult to find customer comments about it online at present. The little feedback there is however is positive.
Suitable for:
Buyers looking for a comfy, adaptable hammock bed/chair. Not those whose main concern is portability.
Expect to pay: US $120-190
Where to buy it: find the Kelsyus Recliner here
Kelsyus Floating Hammock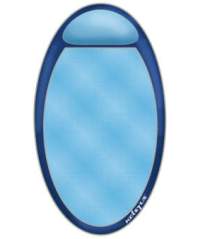 This ingenious floating product slightly bends most people's definition of a hammock, but it is certainly an interesting concept and might well appeal if you like lazing around in your pool, on the lake or at the ocean.
Made from flexible mesh nylon, it features inflatable edges to support you in the water and a built-in half-moon shaped pillow. Its special Jet Valve technology means you can inflate it in seconds flat (even without a pump or a lot of puff).
Once in the water your mid-section simply hangs, suspended slightly under the surface. The sensation is one of rocking gently with the motion of the water. If you already love lazing on an inflatable lilo/mattress, this alternative approach might take your fancy.
Tip
Slightly deflate the pillow to avoid getting a sore neck when lying on your front.
The floating hammock is designed to support adults weighing up to 250lbs/113kg and, as you might imagine, the product itself is
way
lighter than those 'landlubber' beds above, clocking in at just 2.6lb/1.1kg.
Customer feedback:
Users of this hammock love its lazy lounging comfort, light weight and packable portability. Unlike some reports above, heavier customers (such as one of 6'6" and 240 pounds) also say this model supports them just fine in the water.
Suitable for:
Water lovers heading off on vacation, to the pool, lake or out sailing, and who maybe want a smaller, more manageable alternative to larger inflatable airbeds.
Expect to pay: US $25-30
Where to buy it: find the floating hammock here
Kelsyus Floating Hammock Deluxe Version
Like the original version above, this 'hang in the water' floating product is great for lazing in a pool, lake or ocean.
How does this deluxe Kelsyus water hammock differ from the original?
In 2 ways: its mesh material features an (arguably) more eye- pleasing tropical flowery pattern; and its carry bag is more advanced - containing separate compartments for your book, sunscreen, phone and so on.
Customer feedback:
This is almost identical to that of the normal water hammock above; in other words, highly positive.
Suitable for:
Water lovers who want a more manageable alternative to an inflatable airbed and like this product's pattern and assortment of carry bag compartments.
Expect to pay: US $30-40
Where to buy it: find the Deluxe floating hammock here
Related Pages
Kelsyus Hammock Usability Guide
Learn which situations and locations a Kelsyus hammock suits perfectly (and the couple you should avoid).
Pros And Cons Of Kelsyus Hammocks
Find out what Kelsyus buyers like and dislike about their purchases with this handy feedback guide.