Lawson Hammock Buying Guide
Is the company's Blue Ridge hammock for you?
Lawson Hammock is an American manufacturer based in Raleigh, North Carolina. It was founded by outdoor addict Wes Johnson in 1997 and since then has been receiving rave product reviews for its single outdoor bed: the Blueridge Camping Hammock.
Designed to be a genuine tent replacement, this hammock is the manufacturer's sole product (except for Lawson's accompanying tree straps). It also has a unique feature: it can be used as a hanging hammock bed or a bivy that lays on the ground - the choice is yours!
In this full buying guide, we'll explain everything you need to know about this portable bed, explaining its features, its pro's and cons, what owners say about it, and highlighting which products are its closest competitors.
The Blue Ridge Camping Hammock

The only Lawson hammock currently available, the Blue Ridge, is designed to be a very light, durable and weather resistant camping hammock that outdoor enthusiasts can take with them wherever they go - whether sticky summer jungle, chilly mountain terrain, or simply a day's hike in nice weather.
The Blue Ridge is used by customers around the world, including not only hikers and campers but hunters, fishermen, whitewater rafters and kayakers. Anyone, in other words, who spends the night outdoors.
Note: it is curious that the Blue Ridge is not as well known as some other brands of camping hammocks. It is rarely mentioned online in debates and forum threads about which camping bed is best (these are usually restricted to Clark versus Hennessy arguments). However unless camping in the depths of winter, the Lawson hammock is very much a viable alternative.
Unique Selling Points
Dual Functionality
The key feature that sets the Lawson hammock apart from its camping competitors such as ENO, Hennessy and Clark is its dual-mode functionality.
In short, the Blue Ridge is designed to be used as either as a hanging overnight hammock (i.e. in place of a traditional tent) or on the ground as a bivy tent, in which you hunker down for the night unsuspended.
When is this useful? If you need to set up camp in a area without trees or two poles or rocks to hang your bed from, just bivy down instead. It's about having all the flexibility you might need.
The difference between these two-approaches is that to hang the Lawson hammock, you need the usual ropes or tree straps (plus you'll use the supplied spreader bars and arch poles - see below), whereas to make camp on the ground you use the aluminium poles supplied to simply stake (secure) each end of your bed.
Flat And Open
Secondly, the Blue Ridge is also the only portable camping hammock we know of that uses a spreader bar and archpole design. Spreader bars are used at each end of the hammock bed to literally spread its ends wider, making the bed flatter, less cocoon-like and, according to Lawson, "more roomy".
In the Lawson hammock's case these spreader bars also work alongside so-called archpoles. So called because of their shape, these poles keep the canopy section of the bed (i.e. its roof) off your face and body, and also stop the rain fly from touching the inner netting, avoiding the issue of soggy condensation.
Note: the Lawson hammock is a 3-season (side-entry) camp bed, meaning it is designed for use in Spring through Fall temperatures. If you plan to use your hammock in winter too then, consider a 4-season model by the likes of Clark or Hennessy.
Parts And Materials
Tip
Remember - the Lawson hammock does not include tree straps as standard.
In terms of what you get when you buy a Blue Ridge hammock, it includes as standard:
A nylon hammock bed (fully coated in urethane to make it weather-proof)
Rip-stop nylon rain fly (tarp)
'No-see-um' inner bug netting
Shock-corded aluminum archpoles (for hammock configuration)
Aluminum-alloy poles (for tent configuration)
Nylon rope
Brass-plated end grommets with nylon webbing reinforcement
Stuff sack
Additional Features
The Blue Ridge hammock also includes two inside storage pockets for a torch, book, valuables etc., plus an 'o-ring' in the ceiling, from which you can hang a light or torch. The whole bed is backed by a one-year, 100% money-back guarantee.
Size, Weight And Colors
The entire hammock including its stuff sack weighs 4.25lbs (1.9kg) - notably more than brands like Clark for example, but obviously due in large part to the Lawson hammock's poles and included rain tarp.
Size-wise, the Blue Ridge measures 90 inches (229cm) long by 36 inches (91cm) wide. When packed, these measurents are 22 x 6' (56 x 15cm).
Weight Warning: it's important to note that this hammock's maximum weight allowance is 250lbs (113kg), not the 400lbs (181kg) that some other camping hammocks offer. This means the Blue Ridge is strictly a single person hammock - and that person must not be too heavy.
The Blue Ridge by Lawson Hammock is available in 3 color schemes: Forest Green, Cobalt Blue and Camouflage.
Setting It Up
Travis from 2brothersadventures has a very detailed 2-part video series about installing the Lawson hammock (note - he uses more complex 550 cord to secure the bed, not tree straps). Here is part one...
Roughly speaking, the installation process goes like this:
Hang each end of the bed from a tree or other object using tree straps or webbing/cord.
Extend the sprung aluminum arch poles (supplied) and lock them into shape.
Starting from the side of one end of the hung bed, feed one pole into the supplied sewn fabric channel, pushing it through the channel and across the width of the bed (see 4:59 in the video above). Then secure this pole in place, tent-style, using the eye-holes/small rings provided. This will lead the pole to arch upwards, giving you head space.
Repeat with the second pole at the end other end of the hammock.
Attach the elasticated clips at each end of the hammock to the middle of each arch pole (these hold the poles upright, stopping them collapsing sideways).
Attach the supplied rain tarp if the weather looks questionable. Clip its onto the hammock at the head end, pull it down over the length of the bed, clip at the other end and match up the velcro spots underneath the sides.
Unzip the Lawson's side entrance, get in and relax.
What Users Say
If you read the many reviews of this hammock online (as we have done), the vast majority of these are highly positive. On Amazon for instance, the Blue Ridge's customer ratings are all 4/5 or above.
The things that Blue Ridge users like the most include: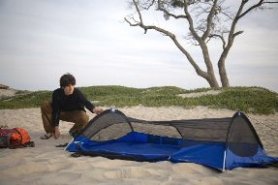 Flexibility
The ability to use this hammock as a bivy tent too is a unique feature and undoubtedly one of the main reasons that people buy this product.
Comfort
The bed is highly comfortable and not at all claustrophobic, thanks in part to its aluminum archpoles ensuring the hammock stays flat and does not become cocoon-like.
Set-Up Simplicity
Many campers like that the Blue Ridge's rainfly attaches directly to the hammock, meaning you don't need to run separate lines to stabilize this as with many other brands.
Space
It is a roomy bed, with users over 6'3" and weighing up to 250lbs saying it has plenty of space.
Low Price
The Blue Ridge is seen as very affordable considering its 3-season flexibility and its many features.
These points aside however, it is also useful to know that some Blue Ridge owners do have gripes and niggles with their beds. They still usually rate the Lawson hammock well, but these comments are worth a look:
Flipping
The flipping debate. Some users never have a problem with the Lawson flipping, but others do, for instance when moving outside the bed's natural center of gravity during the night.
Certainly, getting in and out of a Lawson hammock seems to require a little practice. One user found that tying a rope from one corner of the tent around the supporting tree and back to the opposite corner, on both sides, helped him. Another carries paracord and four tent stakes and stakes down the bed's corners.
Storm Strength
Some users are not entirely convinced by the bed's bad weather sturdiness. One user mentioned that during heavy thunderstorms the seam joining the top and bottom curves up to form a gutter which collects water, which ended up wetting their butt. However another user provides a useful tip - make sure the Blue Ridge is hung as level as possible so avoid rain dripping under the rain fly and into the hammock.
Tip
Using a sleeping pad will reduce bed sagging and add useful cold weather insulation.
Size Matters
Lastly, the comments we read from users suggest that the bed is less suited to larger users when used on the ground as a bivy tent. One commented that when side sleeping their shoulder pressed against the roof. Another adds that for bivy use, the owner should really be shorter than 6' and "a lean individual".
Expect to pay: Around US $135
Where to buy it: find the Lawson hammock on Amazon here
Read the Blue Ridge user manual (PDF):
Essential Accessory
Tree Huggers
Like most camping hammock manufacturers, Lawson also sells its own-brand protective tree straps, called Tree Huggers (not to be confused with Tree Hugger, another hammock brand).
Lawson's Tree Huggers are made from sturdy and durable polypropylene webbing. They work similarly to straps such as Eagles Nest's SlapStraps, in that you simply wrap the straps around a tree, post or other object, then connect your hammock into the S-shaped hooks built into the strap.
This approach protects the tree's bark better than using thinner climbing rope, plus it's also very quick and doesn't require knowledge of knots.
Tree Huggers measure 1.5 inches (3.8cm) wide by 72 inches (183cm) long. They feature an O-ring and a D-ring so that the strap can lock firmly onto itself.
Expect to pay: US $22 per pair.
Related Pages