Zaza baby hammock swing
by Gonie
(Israel)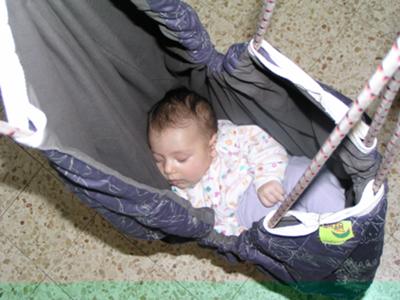 My baby sound asleep
I bought my baby hammock swing one year ago from www.robyna.co.il (although they ship internationally through Etsy).

I have it hanging in my house. My baby used to sleep in it during the day. Now my children play in it.

The hammock is made out of cloth with ropes to hang it up. I can sit in it myself if I put a throw pillow on the bottom and then it becomes like a chair.

We use it inside although I know people who have theirs outside. It is cloth though so it would fade in the sun and get wet when it rains.

This hammock is fantastic for babies to sleep in. My daughter would sleep really well in the hammock and I always knew she was out of harm's way (i.e. her older siblings). My other children love swinging in it too.

The cloth ZaZa uses is beautiful and there are many color combinations available.

I would highly recommend this baby crib hammock to anyone with a fussy baby or anyone who is simply looking for a beautiful hammock. It also makes a great baby gift.
Join in and write your own page! It's easy to do. How? Simply click here to return to Hammock Review (general).